ETF2L Season 5, Division 1, Virtual Scoreboard
Season 5 of the ETF2L is finally over. Through some ups and downs we managed to wrestle 7 points from Coolclan, TCM and Yoyotech.
I don't feel the 7 points are an honest reflection of our team's performance this season, so I've dreamt up a virtual scoreboard to correct reality to my liking. It's good to be king of Imagination Land.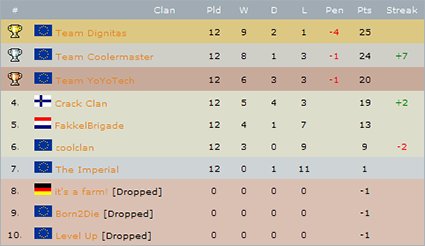 Just some slight alterations. Yoyotech gets a penalty point for worst hair, Dignitas gets 3 additional penalty points for taking a dive against Imperial.
Also, in Imagination Land we took a wildcard for our first match against Imperial, so we'd have some time to practice with our brand new lineup and beat them. In retrospect, losing against Imperial broke our season and made theirs.
Imperial gets a little misrepresented with 1 point, but that's only fair compensation for their new lineup consisting of high ping bastards.
Now I'm going to curl up in a ball and cry at the injustice while listening to a fitting song: Droomland, or loosely translated: Imagination Land.