During the first few hours of friday the 27th, Exfane, Major Malfunction and Arie will be getting in a car and drive to England. Meanwhile, a crazy Latvian will board a plane with the word RyanAir on it and head for London. A small boy with an ugly car will be ready to play demoman again after killing loads of BASTARDO ROBOTICOS in offline practice mode.
But most importantly, somewhere in Portsmouth, the prettiest TF2 player of all time will be fighting off his hangover with some fresh kebab, wash his beautiful face and take off the red L-plate from his FB avatar, for he is the Fisshu and he's ready to 'just skill it'.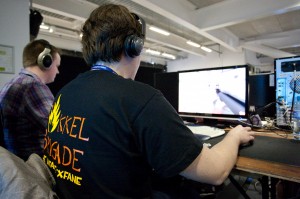 If you're at i40, come say 'hi' to us, we'll be wearing the nice black FB shirts

Also, if you're using an FB Mumble channel, borrowed a server or borrowed a relay, you owe us a beer, we know who you are!