---
Last season I had to photoshop our way to 5th place, luckily this year, I'm pleased to say we've actually made it to 4th place on our own.
Two weeks ago we were calculating the points needed to stay in divi1ion 1. This week we calculated the points needed for second place.
Our last match against illegal was an exciting one. They, fighting to keep 2nd place, and us trying to knock them down a spot.
After FB winning the first map, we were unable to beat them on cp_freight, despite the Train's best effort to help us. Taking 3 points from illegal, this still leaves us at spot #4,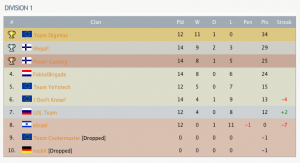 It's been a great season for us, with a new lineup and new tactics, but still the familiar rage of Exfane spurring us on.
This season of FB in ETF2L officials consisted of:
So see you next season, maybe in the to-be-formed premiership division? 😀
---