---
Damning evidence uncovered by our secret i40 spy. He/she managed to snap these pictures of TF2 admin Mole accepting a bribe from Dignitas dunc. Dignitas went on to win the TF2 tournament.
It all happened right under our noses, on the main stages, mere minutes away from the start of the first map.
Take a look at Moles greedy eyes! MONEY MONEY MONEYZZZ. After the payment, Mole summoned a few of his minions to make last minute 'adjustments' to dunc's PC.
Here's a picture of Mole after being confronted with the evidence.
---
During the first few hours of friday the 27th, Exfane, Major Malfunction and Arie will be getting in a car and drive to England. Meanwhile, a crazy Latvian will board a plane with the word RyanAir on it and head for London. A small boy with an ugly car will be ready to play demoman again after killing loads of BASTARDO ROBOTICOS in offline practice mode.
But most importantly, somewhere in Portsmouth, the prettiest TF2 player of all time will be fighting off his hangover with some fresh kebab, wash his beautiful face and take off the red L-plate from his FB avatar, for he is the Fisshu and he's ready to 'just skill it'.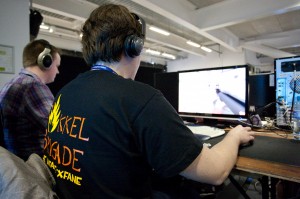 If you're at i40, come say 'hi' to us, we'll be wearing the nice black FB shirts

Also, if you're using an FB Mumble channel, borrowed a server or borrowed a relay, you owe us a beer, we know who you are!
---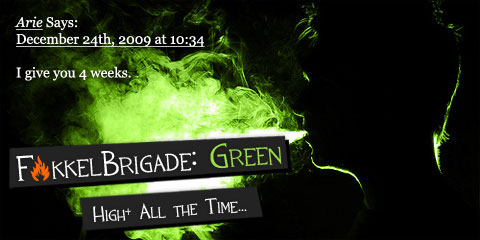 Well fuck you very much. Last sunday the Greeners concluded ETF2L Season 7 with a 5-3 / 4-2 win against Piggy Bankers, securing their 2nd place on the division 4e table and thus their well-deserved spot in division 3 next season.
Roughly 4 months after the formation of FakkelBrigade: Green its roster has changed significally. We've waved goodbye to Swarlz and Matji, said so long to Pornangel, Fitz and Innuy and have taken on Chris as medic, Ran as soldier and Ent1re as backup. Now that ETF2L Season 7 is behind us, we're once again shuffling things around. We've recruited Waster to reinforce the soldier team due to Ran not having as much spare time as he used to, transforming our line-up as follows:
Medic: Chris
Scouts: Miaouss / Pyle
Soldiers: Beetle / Waster
Demo: Major Malfunction
Backup: Ent1re / Ran
On a related note, FakkelBrigade: Green has signed up for Season 6 of the Wireplay TF2 League and will be playing Division 3a. Also, most if not all Greeners have signed up for i40. Which should be awesome.
Major Malfunction
---