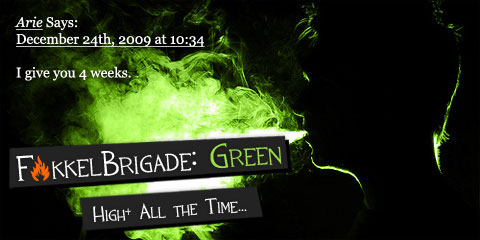 Well fuck you very much. Last sunday the Greeners concluded ETF2L Season 7 with a 5-3 / 4-2 win against Piggy Bankers, securing their 2nd place on the division 4e table and thus their well-deserved spot in division 3 next season.
Roughly 4 months after the formation of FakkelBrigade: Green its roster has changed significally. We've waved goodbye to Swarlz and Matji, said so long to Pornangel, Fitz and Innuy and have taken on Chris as medic, Ran as soldier and Ent1re as backup. Now that ETF2L Season 7 is behind us, we're once again shuffling things around. We've recruited Waster to reinforce the soldier team due to Ran not having as much spare time as he used to, transforming our line-up as follows:
Medic: Chris
Scouts: Miaouss / Pyle
Soldiers: Beetle / Waster
Demo: Major Malfunction
Backup: Ent1re / Ran
On a related note, FakkelBrigade: Green has signed up for Season 6 of the Wireplay TF2 League and will be playing Division 3a. Also, most if not all Greeners have signed up for i40. Which should be awesome.
Major Malfunction